Teach in China!

Yes, you have the opportunity through ALP to spend

the summer or school year in China –

many locations to choose from

with various accommodations/benefits!

Contact us today! (contract form - .pdf)

Schools are booking now!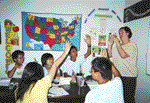 (click above photo for more!)
Embrace a new and exciting culture –
seek challenge, experience,
relate US culture to those eager to learn!
Create memories of a lifetime!
Go ALP – Go China!
NOTE: We reserve a referral fee: $200.00 USD payable only when you accept employment. We will refer your resume and give you many firsthand details about the school/region of your choice. Contact us today!
---