II. Corporate/Workplace Lessons
---
I. Private English or Spanish Lessons – without homestay!

If your use of English or lack of the Spanish language is hindering your job advancement -

If you did not have the time to study English or Spanish in previous years -

If you only have a minimum amount of time to study -

If you need flexibility in your dates and time of instruction (rolling admission) -

If you learn better through one-on-one instruction (you are tired of large classes) -

---- then ALP has your answer!

English Tutoring is conveniently available at these ALP Locations::

Spanish Tutoring is conveniently available at these ALP Locations::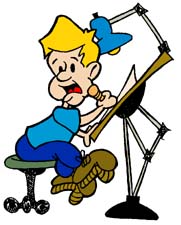 Here is what YOU will receive:
- Private, one-on-one instruction
- ALP teachers go to the homes/work of students OR in the teachers' homes
- Flexible start times/days of the week (schedules created to suit YOUR needs)
- Fees per hour are reasonable and economical
- Pretest and End Test provided
- Individualized courses set up for each student - concentrate on what you need!
- Excellent, professional textbook(s) selectively chosen for each student
- Certificate awarded at completion of course
It's up to you: make the RIGHT choice with ALP!
"Lessons Only Program" Rates/Tuition
Private lessons at the office of an ALP teacher or agreeable meeting place for student and teacher: $50.00/hour USD*
Private lessons in the home or office of a student are: $65.00/hour USD*
All pricing is subject to the type of lessons specifically needed, number of hours required and region of country.
*Reduced rates are possible for two or more students studying together at the same location on our "Lessons Only Program" and can be negotiated at the time of booking/contract.
---
II. CORPORATE ENGLISH OR SPANISH: WORKPLACE LESSONS !
Our "Corporate/Workplace" Program is simple but very powerful. We realize that classroom instruction is not enough for truly learning a new language. Students have many different ways of learning. While some may prefer classroom instruction and self-directed learning, others may not. At ALP we know that to learn a language you must not only learn but also practice. Therefore, all of our courses employ both formal didactic lessons combined with situational instruction as well. Anywhere from one to four students may study for a period of one to eight hours in a formal classroom setting as well as outside of class in "real–life" activities and situations which will enable students to apply their English/Spanish in real-life environments. As in our core English immersion courses, we stress "learning by doing!" We will work with BOTH individuals and large companies to come up with a program that is tailored personally for you!
If you are the Human Resources Director for your company and need to train some of your employees for travel/employment in Spanish/English speaking countries or to work with companies in the USA, we are your answer! Increase productivity and encourage career development and advancement while also empowering your employees!
One of our friendly, capable, certified and degreed teachers will come to YOUR company to meet with your employees! Or, if you prefer, they may go to the ALP teacher's office instead. The choice is yours with ALP! Whether you need English or Spanish, ALP is the answer to your communication needs!
Rates and Tuition:
Each Course whether private or group is specially designed for your needs and rates/tuition will be supplied upon request. We offer our program in levels of 30 contact hours per level, minimum per booking. A list of previous clients who have taken advantage of this spectacular program is available upon written request.
Don't delay any longer – Contact American Language Programs for details!
Book with ALP and start to improve your English today!