ALP-Florida welcomes you to sunny, fun-filled
Orlando & Kissimee /St. Cloud

, Florida---home of Walt Disney World Theme Parks: Epcot, Magic Kingdom, MGM Studios, Animal Kingdom, Wide World of Sports Complex, Water Parks, and Pleasure Island. At Disney's wondrous parks you can marvel and participate in scientific exhibits, dance with Mickey, take a refreshing plunge into one of the three characteristically different water parks or enjoy an evening out at numerous disco, techno and jazz clubs. It's all here!



Imagine, you can receive your intensive, private English lessons in the home of your teacher and live nearby to all of this! But there is more! Shopping abounds at Orlando's Premium Outlet Stores, excite to the Rodeo, find Jaws or ride through the future in "Back to the Future" at Universal Studios. Want to cool off? Try Water Mania and Wet'n Wild or try an airboat on an Everglades swamp where you are sure to find wildlife such as alligators, blue herons, otters, and many other different species of birds and turtles. The list goes on and on!

You will find many more activities to partake of when you book with us!

See the links below for further information. See you soon!

Click Here for Orlando & Kissimee/St.Cloud Area Links!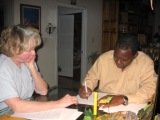 &nbsp&nbsp&nbsp&nbsp&nbsp&nbsp&nbsp&nbsp